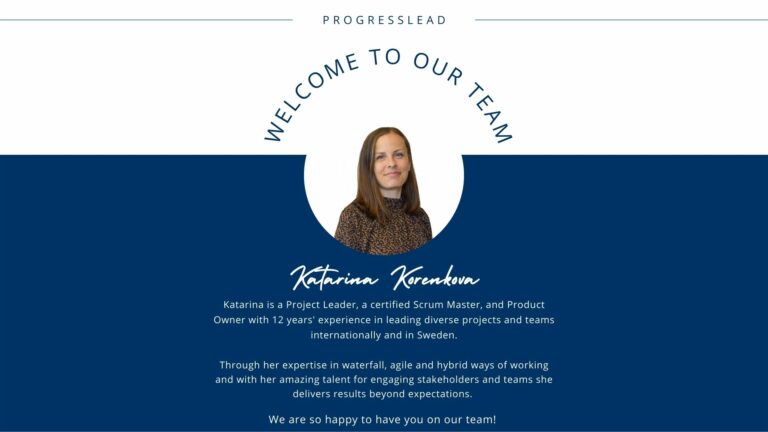 ProgressLEAD welcomes Katarina Korenkova!
Katarina is a Project Leader, a certified Scrum Master and Product Owner who has led many diverse projects and teams. She brings with her 12+ years of experience from sectors such as international development, healthcare, education and publishing. She has also worked with complex EU-funded project and the public sector.
Enthusiasm, curiosity, and a positive attitude are her key qualities, allowing her to take on advanced challenges with confidence. She often brings to the table new ideas that drive value and business benefit.
Her amazing talent for engaging stakeholders and teams delivers results beyond expectations.
Katarina is also passionate about empowering others, volunteering and contributing to the profession. She serves the project management and agile community in Sweden as a board member and vice president for the Project Management Institute Sweden Chapter and as a university guest lecturer.
Charlotte Arnberg, COO: "I am delighted to welcome Katarina to our team of amazing consultants. Katarina will be an asset for our clients in need of a business and tech orientated project manager and product owner with a highly valued people leadership capability. She will add value to our clients' challenges from day one."
We are very happy to have Katarina in our team!